You probably have been overwhelmed with a lot of discussion regarding SEO-friendly article and its human friendliness. Those kinds of discussion somehow has been saturated in our mind since a typical phrase always appear when we are about to write: how to make an interesting article. 
However in fact, the word interesting itself has a broad meaning and sometimes indescribable. There are many parameters to define what 'interesting writing' truly is. Moreover, if it is defined through the perspective of SEO, an article may fulfill search engine's criteria of interesting , but may not so from reader's point of view. 
Write for readers
Remember: Always write for your readers, not for machine! 
One fact that must be remembered is that Google uses readers' behavior to define ranking in search results page. Readers can judge whether or not the article they read is good. If it fulfills their expectation, they will read until the end. 
Google read and process the users' behavior as a data, and it can be used as a one of indicators to define ranking. The longer the user stay on your article, the more comfortable they are in reading your writing. Google will record this data as a positive trend.
That is why, content must be both SEO friendly and human friendly. Both must be hand-in-hand.
The next question is that: what is search engine and its SEO friendliness? What does human-friendly refers to, and how to fulfill its requirements? Let's go deeper though this writing.
General Requirements
Standards such as choosing keyword with high search volume; keyword positioning in title; keyword density for main and related keyword are the most widely-known theory. 
However, the thing that must be emphasized here are the writing attributes that are not only support from SEO side, but also uphold its human friendliness. 
Parameter
Human friendly article is an article that is highly readable. Each of the sentences flow naturally. Moreover, the fundamental requirement such as keyword must also be fulfilled.
Related to key-wording, another important point is to make sure the readability of our writing and how we can attach keyword naturally. 
Furthermore, we have to ensure our sentence is straightforward by eliminating the irrelevant details. 
The following are the must-known elements for both SEO and human friendly article.
1. Understand your readers' characteristics
Before writing, you have to know your readers' characteristics, including their age group, gender, and many others. 
This knowledge is useful to determine your writing style: whether should be written in formal, or more to the casual. To get this reader's mapping, you can accommodate Google Analytics tool.
From that data, we can conclude that the average readers come from the age group of 18-34, and mostly from female readers. 
Referring to this data, we can write with a less formal tone to maintain the readers' reading enthusiasm.
2. A Spectacular headline 
Well, it is not necessary to make a bombastic headline. The thing that is needed is to make an eye-catching headline without a sense of clickbaity. Here are the example of an eye-catching headline.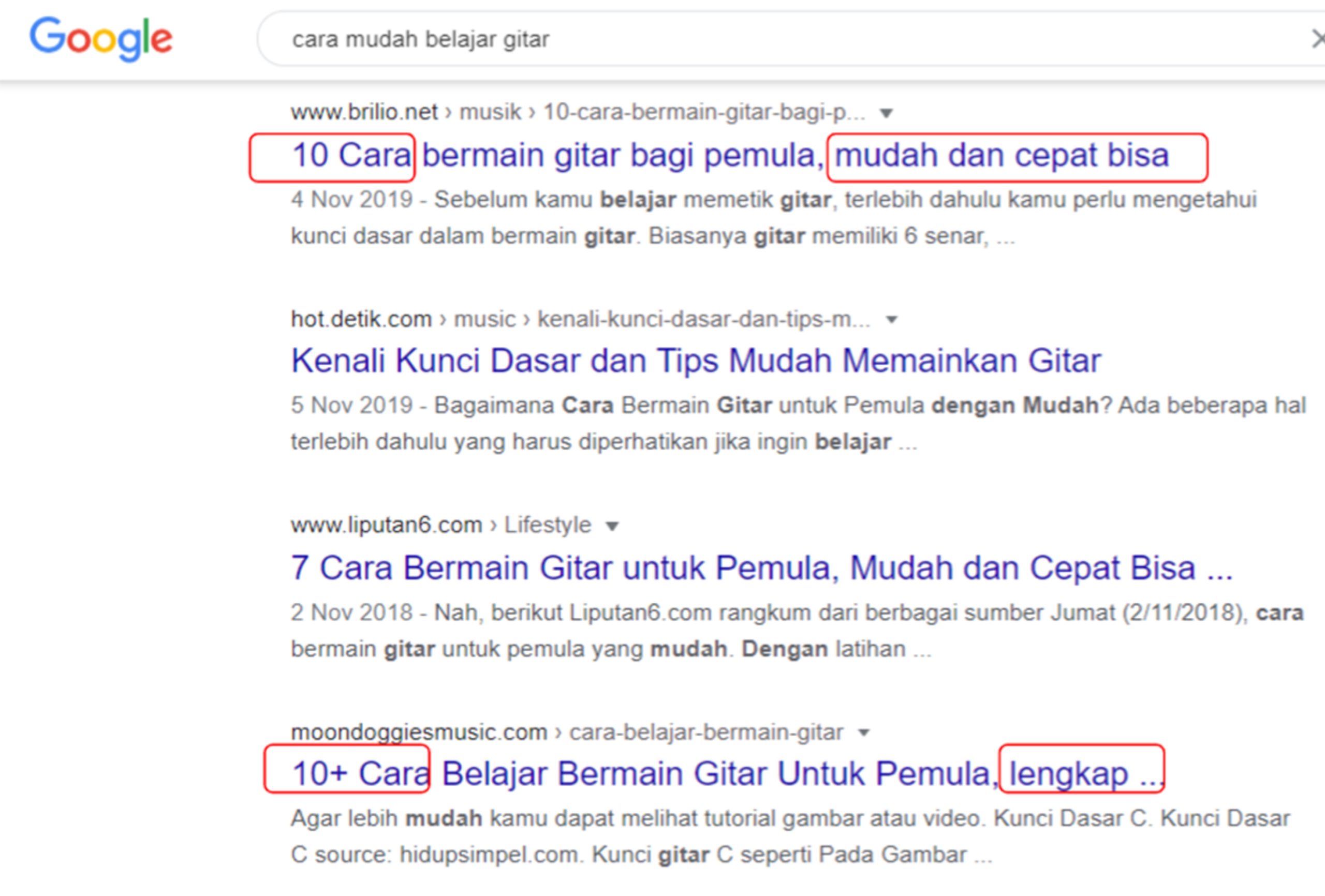 Can you notice them?
3. Type and font size, line spacing
Writing, to be specific SEO content writing, must also consider this detail. Ensure the text is readable by using the standard size of font. In relation to paragraph, 2-3 lines is the best. You can add up to 4 lines in a single paragraph. 
A tight paragraph consisting many lines of text is not so visually attractive for reader to read.
4. Image, subheading, list
The existence of image inside the text can help to make the idea more clearly stated. It can also add the value of attractiveness of the text. You will need to choose and embed image that match with the content of the article.
You need to use subheadings to split long article into shorter sub part. The use of lists and points can also ease the reader to read more efficiently.
5 High quality, detail and comprehensive
You have to ensure that your writing is in a good quality. Since you cannot defeat against competitor on the first page unless you have a sufficient 'ammo'. The higher the quality of your article, the more satisfied the reader will.
If you can make your readers satisfied with content you provide, they will not seek other from any websites. Your article can answer what your readers' are searching for. Make sure that every of your article serves detail and comprehensive information.
It will be much better if you are an expert in a particular topic in your writing. But if that doesn't happen, you must spent your time to collect resources and information to get deeper into your topic that you are about to write.
6. LSI keyword
LSI (Latent Semantic Indexing) keyword is a word, phrase, or sentence that is considered semantically relevant by search engine. The following are the examples.

You have also to insert these kinds of keyword to your article. By doing so, your SEO article will rank for various long-tail keywords. Moreover, LSI keyword also functions as a support for main keyword to make it richer in variation.
7. URL, meta description
URL must be in a good length and contain keyword. Meta description is also too. It can contain at least one targeted keyword in your meta to make it better in performance. 
8. Internal link
It is like a navigation, internal link helps reader to explore more contents and articles from your website. From SEO perspective, internal link also functions to improve page rank in SERP.
Must read: 7 Internal Link Strategies to Improve Google Page Rank
The above eight elements are the basic writing aspects that must be fulfilled when we are about to write. Both SEO and human friendliness are the two prerequisites that have their own balance significance for a good writing.
Frequently Asked Questions
How to decide language style that match with targeted niche?
Understand your target users as well as their background, their age group, and gender. From here, you will be able to decide your writing style, whether should be written in formal, or more to the casual. Moreover, make sure that you understand the topic you are writing to satisfy your readers' need.
How to maintain the human friendliness of the 1000/more-words article?
Split the content into sub-subheadings or by lists and points. This can make the article looks more 'readable' than the one that has many lines in paragraph. You can also embed images or illustrations that relates with your topic. Don't forget with the image attributes such as image caption and Alt image.
How many keywords ideally to make article more optimized in search engine?
There are two terms in relation to keyword, namely main keyword, and related keyword. Main keyword must be only one targeted keyword. The main keyword's density (frequency of appearance) is ideally 3% from the total word in an article. Meanwhile, related keyword must be more varied, and of course more than one. You have to maximize those related keywords to conquer and reach any keyword possibilities typed by users on a search engine. The density of related keyword is ideally at 1-2%. You can check the keyword density of your writing by using this tool: https://cmlabs.co/word-counter/
In what condition a short article content can be in the SERP's first page?
A seasonal content or news have a bigger opportunity achieve this condition. In a particular momentum, news-category articles will compete each other to produce a fresher content. That is why seasonal content can be easily appear on the first page.
How to compose a good meta description? Can we quote sentences from our own article?
It is recommended to create new sentences. As we write a headline, meta description must also be persuasive. At least one main keyword and one related keyword must appear in that meta. Make sure the character and pixel are proportional. To check whether or not your meta in a good length, you can use this tool: https://cmlabs.co/page-title-meta-description-checker/
Conclusion
From the above elaboration and discussion, there are at least five important points must be underlined:
Both SEO friendliness and human friendliness of a writing must be appear hand-in-hand in an article content. It is important for not only fulfill search engine's requirements but also consider readers as our main goal of article we make.
To balance the need of SEO and human friendliness, there are at least 8 parameters must be fulfilled. Each of them has their own standards. Those parameters can be used as a foundation of your writing.
You have to optimize your writing by incorporating writing-assistant tools. From the very first stage, you can use Google analytics to conduct user research and more. Many tools are also available to help you in keyword research, competitor research, and reading trend. If you have finished your writing, Word counter tool will be very also useful to check your keyword density. The last, don't forget to check your title and meta length with any available tools.
Produce high-quality, comprehensive, and in-depth content that has many details inside. Remember that each of your readers can judge whether or not your content is good. If you can provide your readers with good answers and solution, they will not seek others from any sources.
Make sure you have fully understood with the topic you are about to write. It is important to make your article deeper, rich, and doesn't include any irrelevant arguments. If you are not an expert in that topic, you must spent your time to study and collect any relevant resources. Both SEO and human friendliness are the two elements that are equally important for content writing.