Ruangmom
Last updated by cmlabs at Mar 22, 2023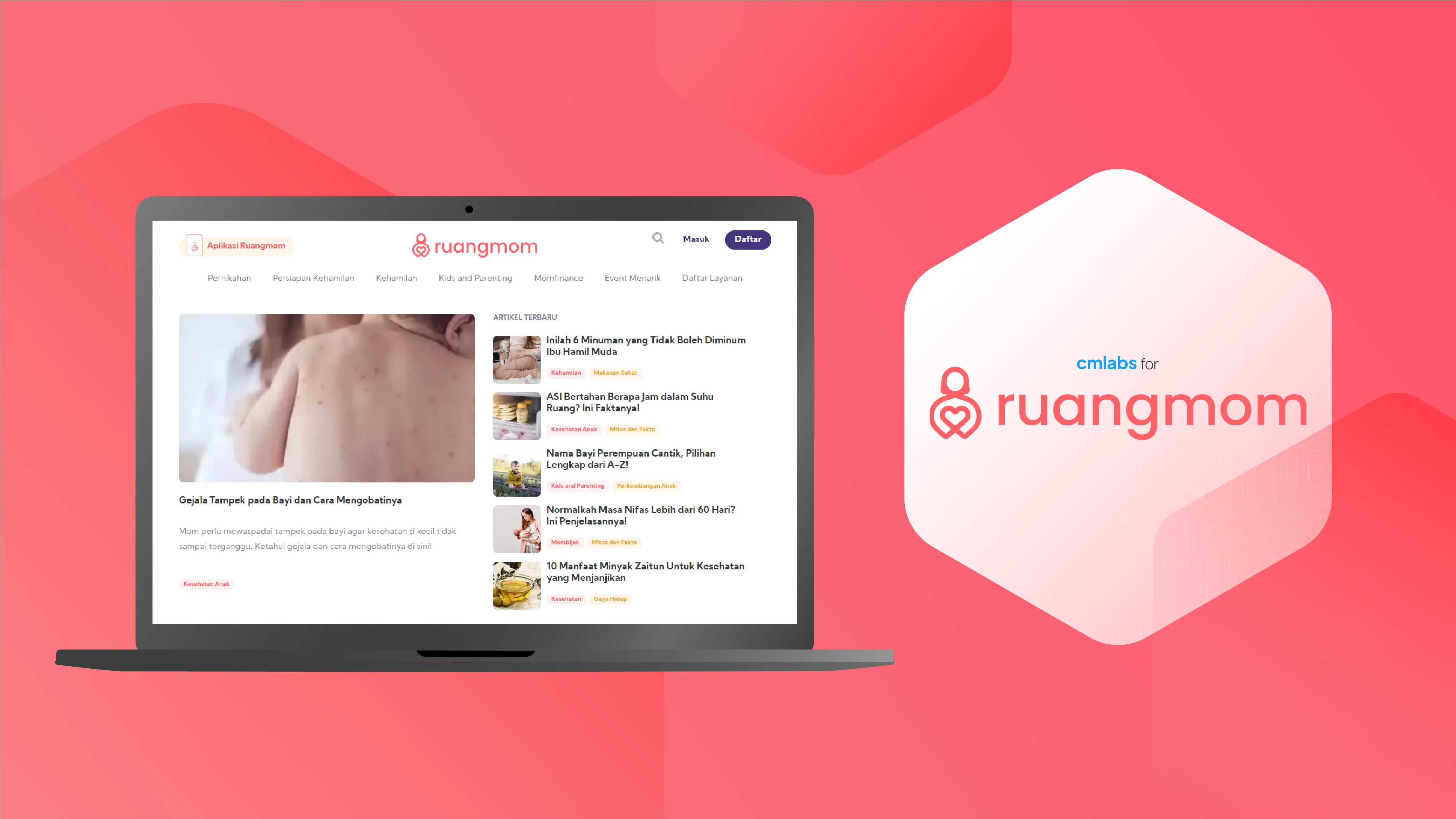 Ruangmom is the first Indonesian women's care platform that discusses topics about womanhood and parenting. See how our collaboration with Ruangmom helps the website grow.
About the Client
Ruangmom was founded in 2020. It serves as a platform that tackles topics about womanhood and parenting with identity-driven analysis.
Performance Overview
Our collaboration with Ruangmon began in September 2020. By December 2022, we have reached an increase in monthly active users about 112%. It helps Ruangmom become one of the market leaders in the family and parenting niche.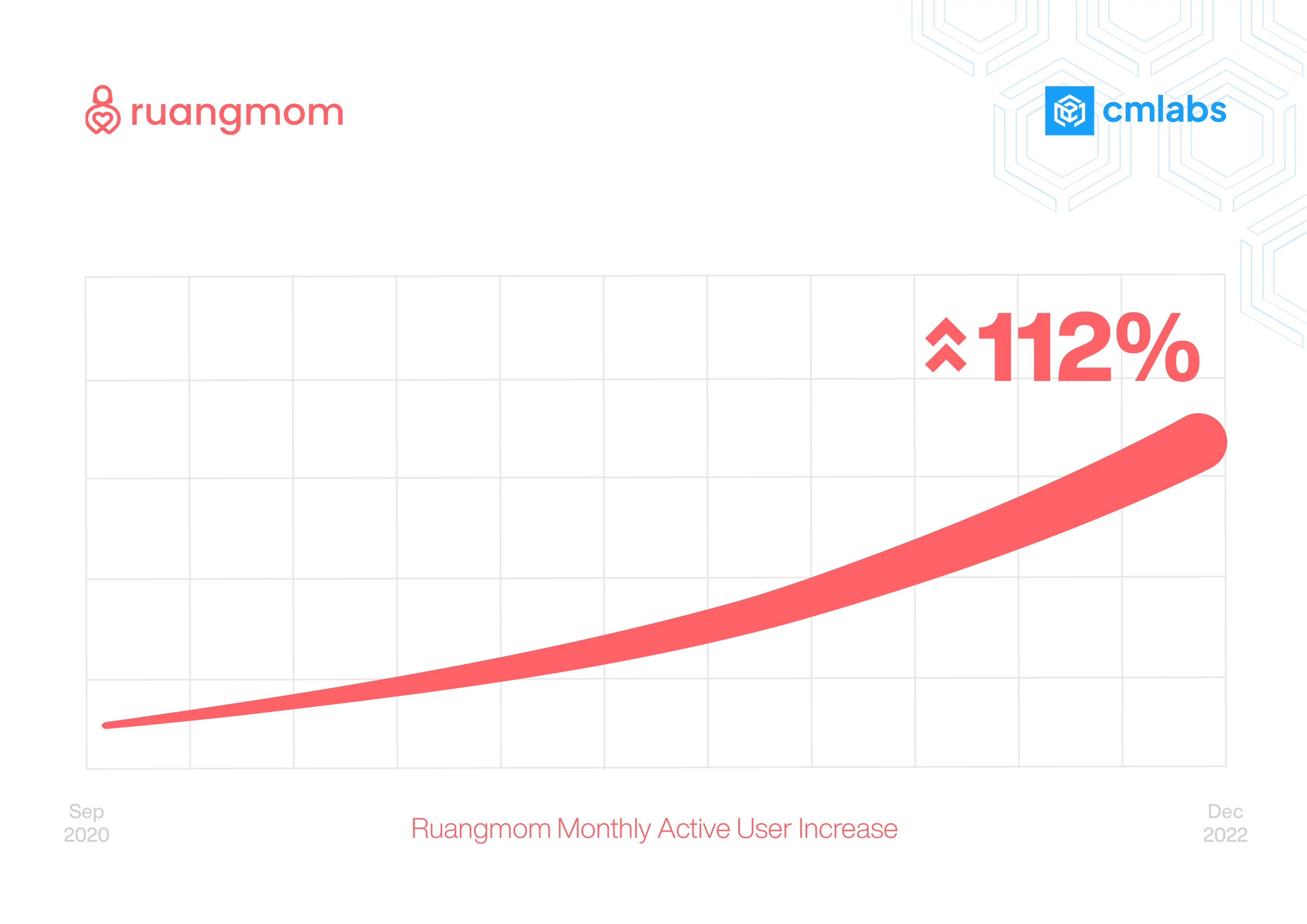 Nurture Organic Growth Like Ruangmom
Do you want to organically grow like Ruangmom? Inform us what you need by completing the form below. We'll help you achieve positive results for your brand.
Want to reach Ruangmom achievement? Contact our marketing specialist
If you are interested in discussing with us the achievements that Ruangmom has received, please leave a message and the information we need in the column below.
Check our promotion page!
At a certain period our marketing team will create a campaign that can reduce your company's monthly SEO budget with us. Check this out?
Our marketing team will respond to your message at least 1x24 hours after we received your inquiry.
Learn how to set your SEO Objective!
Please note, if not all types of businesses can use SEO. then it is important for you to understand whether potential customers of your products and services are actually searching through search engines
SEO Items, Mandatory
Gain organic traffic

Most popular package on cmlabs

In some businesses, searches through search engines like Google, Bing, and yahoo are really high. Even with just a 3% market capture available in his niche through search engines, a company can stand strong. So understanding this objective is so important and the most basic of organic marketing. For example:

Travel & transportation

E-commerce

Financial inclusion & services

News or online publisher

Property

Automotive

A specific SEO approach is needed for companies operating in certain niches, such as Gojek, Grab, mining, etc.

SEO Campaign

Some business sectors have large and complex markets, marketing activities can be so complex and broad. At some point, big companies need Content Marketing activities (we call them SEO campaigns) to get awareness through mass media and online publishers in a country. Considering this activity required a more budget, you need a comprehensive strategy and it must be designed carefully.

Learn how to choose SEO company or agency to help your business on cmlabs Blog

!

Organic market share

When the company has targeted thousands of keywords, then our discussion will continue to market dominance in a particular business niche on search engines like Google or Bing. If your company is already here, then cmlabs will be the right SEO friend for your business. We really understand if your company's position compared to direct or search competitors is so important, and we will help make your company get a percentage share according to the company's OKR.

Enrich search results

For some companies, this objective may be just a complement to the search results. However for us this is an important investment and should be maximized. Based on our internal analysis, the SERP feature that you maximize does not directly impact organic visits, but overall it makes search engine algorithms understand how your website is trying to provide information with better serving options to users.

Fix on-page issue

It is becoming a common problem and perhaps some company executives have the wrong priorities. We agree that technical matters are important, but you have to consider other factors such as keyword clustering and the planning of the website. It is a big team collaboration, so the SEO specialist is not right to bear the technical burden alone.

Learn the techniques of SEO

We consider a reliable source of information from the search engine developer pages themselves, such as Google and Bing. But if you need a simpler alternative to understand, we provide SEO Terms and SEO Guidelines.

Get on leaderboard

This objective has not been widely understood by the enterprise. Generally, our specialists (before joining cmlabs) help multinational companies with this objective. Simply put, a market volume will be evaluated and analyzed. So that we will know what percentage of the market we have captured, this is indirectly related to the point of Organic Market Share (which we have shown earlier). But when the company has arrived at this objective, at least the keywords you are targeting are tens of thousands and the optimization scale is for large markets such as countries.

Increase ranking distribution

Close the discussion in the previous line, this is an optimization option and an objective at a high level of SEO. This job requires a comprehensive plan and strategy. It also requires advanced planning and a precise design.