Several entrepreneurs might understand what SEO (Search Engine Optimization) is and its objectives for their business. In fact, still, there are many of them who don't understand it yet. To make it simple, SEO is an effort to raise our website up on the first page of the search engine (in this case Google).
For instance, when we own a website selling Pure Honey and expect it to appear on Google when people type "Pure Honey" or "Where to buy pure honey", SEO is the alternative that we can do.
There are several essential things we need to know to make sure SEO works well for our business. Before coming to the discussion, let's learn the difference of:
SEO and SEM
On the Google search result pages, there are two different parts: the organic and the paid ones. What we mean by "appear on the 1st page of Google" is to appear on the organic ones. What you see for the first time in the search result pages is usually the search engine advertisement. You need to scroll down the page to see the organic part.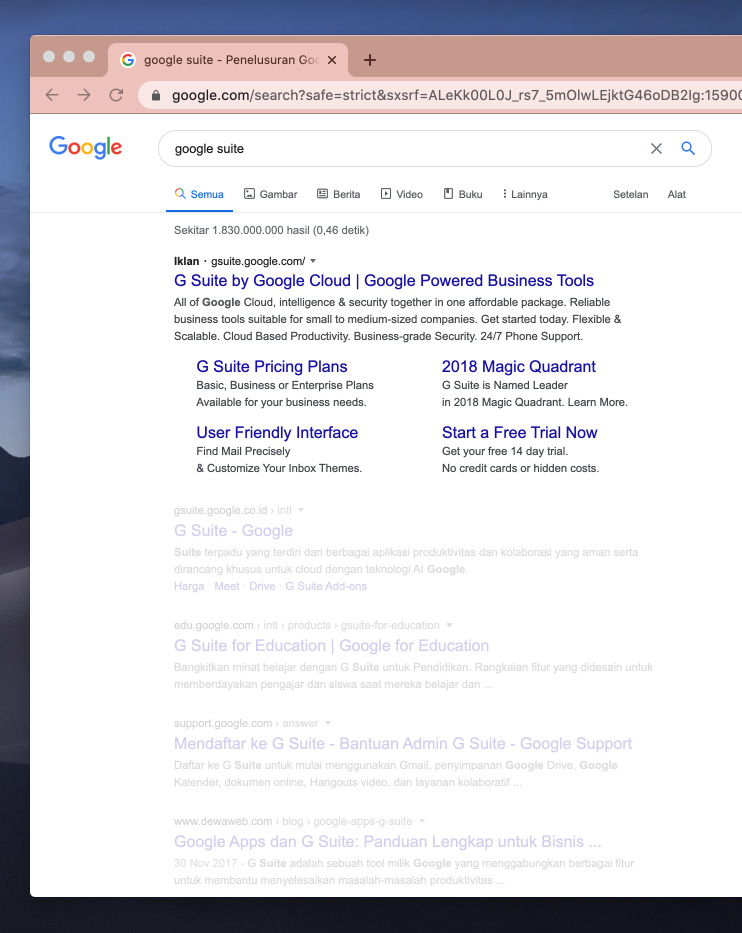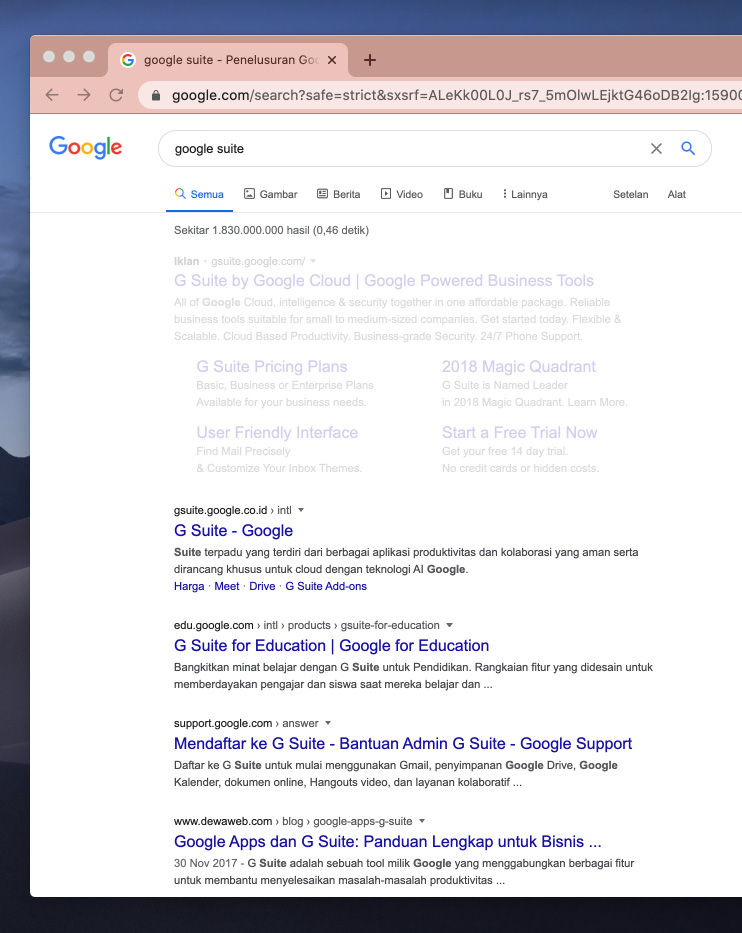 There are differences between how to make a website appear on the organic part and the advertisement part. For the advertisement, you are required to spend more budget for people that visit your website. In contrast, for the organic parts, regardless of the number of visitors to your website, you don't need to pay anything.
Why do we need SEO?
It is a common truth that every business needs marketing. Generally, marketing is concerning about how to make people easily found our products. To make our products visible, we need to locate ourselves around crowded places such as malls, markets, and any other. When it comes to the digital world, one of the crowded places in digital is search engines such as Google. Thus, SEO stands as one of the most efficient marketing strategies in digital business.
Every day, there are more than 3,5 billion searching activities recorded by Google.
Let's make an analogy about it. If Google is a mall where people come and go to ask for information, it means that there are more than 3,5 billion questions asked on each day. Some of the questions are "pure honey seller", "where to buy pure honey in Jakarta", etc. There are millions of keywords that will perfectly help you to promote your business.
Let me give you a case study. There was a study conducted by Think With Google found that 1 out of 3 people make a decision for their traveling purchase by starting an organic search on search engines.
In another case in purchasing a smartphone, 1 out of 6 people starts making consideration by utilizing a search engine. Those examples show that search engines had played an important role in purchasing activities.
From those case studies, we can conclude that SEO worth to be considered as one of the marketing strategies for the owner of Small Micro Medium Enterprises and Startup.
How to Run SEO
To be able to run SEO effectively, we need to understand how search engines like Google work. There are 3 basic functions that SEO can do:
CRAWLING.Google visits various websites all over the world, starting from the trusted ones and looks over the links attached inside. In the next website, Google investigates whether there are links that direct to the other websites and conduct a thorough discovery.
INDEXING.Google reads, digests, and organizes the duplicate of visited websites in a database to be easily accessed and displayed when it is needed.
RANKINGIn less than a second, Google recognizes the keywords based on searchers' queries and finds the relevant result in their index. Google will provide the best answers for the searchers' queries and the results are ordered from the most relevant to the least relevant.
This is the chance for people who run SEO to do a study case analyzing the best criteria that Google will recognize it relevant. In that way, their website will be displayed once searchers ask for the queries.
Generally, we can put those optimizations into several categories:
ON-PAGE. Things inside those websites can be optimized such as the page title, page content, etc.
OFF-PAGE. Things outside the website such as external links, your business brand, etc.
Technical optimization. It is related to the technical things such as mobile-friendliness, the site speed, internal linking, and many other things.
If you are a web developer, please check SEO guidelines .
What you need to do if You are the Owner of a Small Micro Medium Enterprises or Startup
First of all, it is important to clarify that SEO would be beneficial for all businesses. Goods such as foods, fashions, electronic devices are already familiar so that a lot of consumers will surf for it in Google. Whereas, it is hard to get the benefit of SEO for new products or unfamiliar services since only few people ask queries for it.
That makes research becomes one of the most important parts of the SEO process. Research in this case related to keyword and competitor. Keyword research refers to the action to reveal whether there has been queries related to our products or services. If the queries had existed, we need to know what are the keywords that mostly used. On the other hand, competitor research includes the analysis of existing competitors to make sure that we rank higher in the Google search results.
Finally, the SEO processes can be concluded in the stages below:
RESEARCH. Analyzing keywords and competitors (understanding the market).
OPTIMIZATION. Running an on-page, off-page, and technical optimization to make our website ranks higher than the competitors.
EVALUATION. Evaluate the SEO process to make sure that it achieves the expected goal and notice what things need to be revised.
Untuk istilah-istilah SEO lainnya, silahkan cek di halaman Kamus SEO cmlabs
Despite the potential benefit of SEO to business marketing and branding with a low price, a dedication of resources and time within the processes are essentially needed. Of course, we will need time to get the index and ranked by Google. Moreover, it getting more complicated when it comes to creating content, optimizing websites, etc.
As a leader, you are the first stakeholder that needs to understand the process so that you can plan the right goal and support that will fit with your SEO team or other agencies that help your business.
As a reminder, since SEO takes time, it is better for you to start as soon as possible. Get the SEO Service packages for your startup.
WRITER PROFILE
KONTRIBUTOR AKTIF DI CMLABS, SEJAK 2019
Hangga Nuarta adalah digital marketing profesional dengan lebih dari 4 tahun pengalaman dan pernah bekerja di dua startup unicorn di Indonesia, yaitu Traveloka dan Bukalapak. Kadang menulis di blog pribadinya hangganuarta [ * ] com.
Hangga Nuarta
Note: We have attached some of the most common questions asked by users below, along with their answers. To use the cmlabs Keyword Ranking Tracker application, you don't need to request for a quote from marketing. Please click login to the application.
WDYT, you like my article?
Subscribe to Our Newsletter
Enter your email to receive news from us